My active interest in animals began in 1982 when I started riding horses at a local Riding School. It was not too long before I started working there at weekends and any evening if I was allowed! This was not any ordinary Riding School, as it was a very highly respected Arabian Stud, one of the best in the UK! It was here that I developed my interest in fine construction & fluidity of movement. This led me onto studying bloodlines, so much so that I eventually worked my way up to Head Groom running both the Riding School, Breaking & Schooling, covering of Mares and the absolute pleasure of training the foals.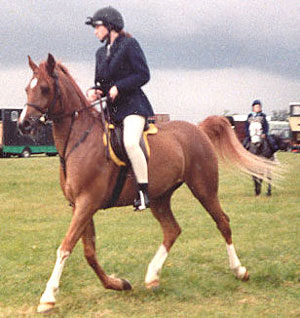 Princess Amelia age five - pictured here is me & baby my first Pure Bred Arab on the move
I have always loved Boxers from a small child, I remember a lady in our village who had a white Boxer called Peggy who I used to see and admire. What I love about the breed is their unique presence, alertness, nobility, stamina & intelligence and above all instantly recognizable from all other breeds. My first Boxer Nipper arrived 1992, I bought him from the Tyegarth Kennels. Tyegarth Fronsac, he was a fine looking Brindle & White Puppy who brought so much joy into my life that I could not resist showing him as I had the Arabs! As well as showing him we also enjoyed doing Agility, as he was extremely good at it!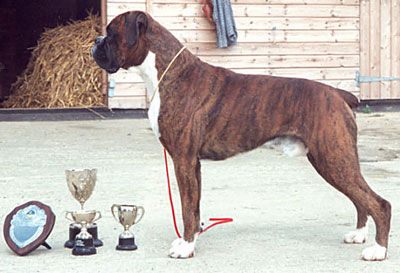 Tyegarth Fronsac
My Husband Ash, is a Biker, who also comes from a seafaring background. He was brought up with an Australian Cattle Dog whilst living in Australia, then when he moved to the UK his family had Dobermans, although he has always had a love for Boxers. Nip was my sole Companion apart from my one Arab & Anglo Arab, as Ash & I lived apart due to my Job being in Dorset & Ash living in Hampshire. Devastatingly I lost Nip at the young age of just 6 years old due to an Auto Immune Disease called GME. We went from Bristol Vet Hospital to Newmarket to try and save him, but sadly it was all in vain ... he is still very much missed.
Roska a smart dark Brindle & White puppy became part of the family in 1998, he came from Miss June Grover of the Ackendene Kennels Somerset; June took me under her wing and helped me get my foot in the door of the Showing World! Having had a taste of Showing already with Nip, I couldn't wait to start the training with Roska! I moved back to the village of Netley Abbey in Hampshire Spring 1999 where I grew up, to make my life with Ash.
We needed an Affix! Something that reflected both of us! Ash having a keen interest in the Sea and the Vikings and me with an interest in Horses and winning, it had to be a Viking name!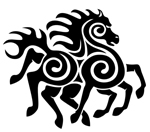 Sleipnir was the name of Odin's Magical Horse! ... Perfect!
We were granted our Affix in 1999. Hence forth all Sleipnir puppies have these wonderful strange Viking names!
It was not too long before we chose to buy a Quality bitch from Claire Kay of the Seacrest Kennels, a Golden Brindle & White Puppy, Seacrest Kayf Tara at Sleipnir (Freyja) she was by Ch Seacrest Danoli at Carmondene x Seacrest Bijou D'inde which was a Ch Huttonvale High Command at Seacrest Daughter.
Freyja was to become my Foundation Bitch, at the Age of 2 Freyja had her first litter by Saxons Pal Joey of Ackendene (Roska). She had 4 Lovely Strong Healthy Pups, but we decided not to keep anything this time and waited for her next litter. We chose to use Ch Winuwuk Lust in the Dust to sire her next litter where we had 5 Beautiful Puppies, among them being Ch Sleipnir Olaf The Stout (Oli) & Ch Sleipnir Viking Goddess (Hela) Who gave us an amazing start to a successful show career, and, with such beautiful pedigrees they gave us a wonderful start to our Kennel.
Through the Success of her children, Freyja won 3rd Top UK Dam 2005 & in 2006 she won Dam of The Year!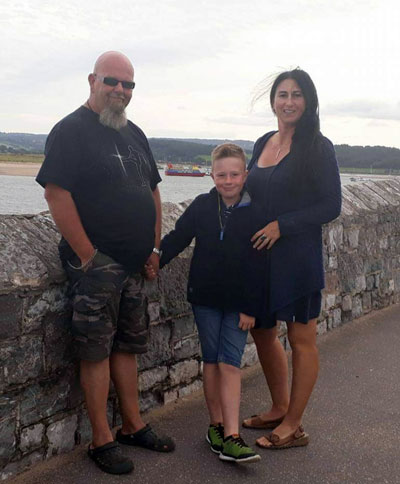 Ash, Angus & Nadine

Look Out The Vikings are Coming!